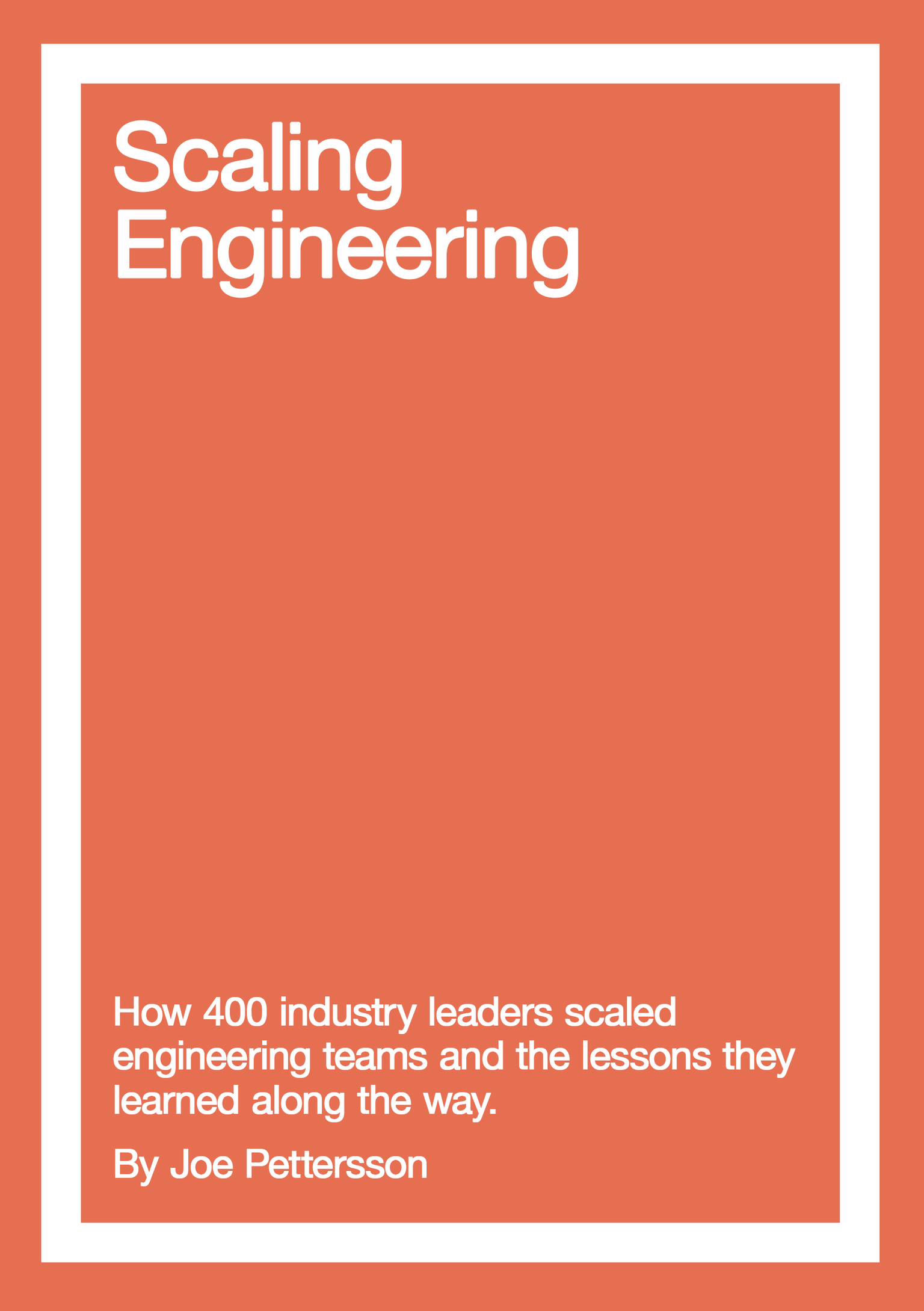 Scaling engineering teams is difficult. It's complex, time-consuming and it can feel unintuitive. A few can turn to their networks as they go on the journey, and that can feel like a super power. The knowledge and experience needed can feel inaccessible to those that don't have their own networks. Scaling Engineering is being written to help solve that problem. We've spoken to more than 400 engineering leaders from more than 300 organisations; from small startups beginning their scaling journey to large household name technology companies much further along the curve. We've asked those leaders to look back and tell us how they've taken their teams to where they are now.
We've extracted the lessons that can be applied to any engineering team as it scales. We cover the topics our 400+ engineering leaders think are important when scaling engineering, from scaling hiring, culture, technology and organizations to building an inclusive, diverse culture and managing technical debt.
We'll also share some of those leaders individual stories with interviews, profiles and lessons we can take from some of our industries preeminent voices.
Finally, we'll share the data when the book is published. We want you to be able to mine the data we've used to write Scale Engineering and draw your own conclusions and take your own lessons.
How much will the book cost?
The ebook will be published under a "pay what you can" model. We want the book to be available to everyone, and not just those can afford it. 100% of funds raised from the sale of the ebook will be donated to charity, minus the cost any platform we sell it through takes.
The physical book will be published at cost + shipping + $5. The $5 will donated to our selected charities. We're working with our printing partners to reduce the cost (and environmental impact) of the published book, and will share more information on final price at a later date.
Our supported charities are Trans Lifeline (US), Mermaids (UK), NDN Collective, Climate Justice Alliance and The Bail Project.
The Data
We wanted to write a book based on data, not individual anecdote. We did that by interviewing more than 400 engineering leaders. These interviews took place over 22 months, from the beginning of 2020 to October 2021. Our interviewees each answered a 50 question survey. The survey contained a mix of question types but was focused on freeform text answers from our participants.
A small number (n=53) were additionally interviewed via video call, by the author. The calls were all recorded and transcribed. In the calls we asked an extra 10 question, and on average they lasted 53 minutes.
Our participants contributed confidentially and their responses will be anonymised before the data is released. We gave the participants the option to contribute some or all of their answers non-anonymously, these responses form the core of our individual stories and profiles.
None of our participants were paid to take part, aside from being promised a free copy of the physical book.